An Online Mediator
What is Online or Virtual Mediation?
Online mediation is a process by which parties can settle their cases via alternative dispute resolution methods without appearing in person.  Mediations are conducted through a cloud-based platform easily accessible through the internet.
Document submission is also facilitated via an encrypted cloud-based platform.  As with your familiar mediation procedures, the mediator is a neutral third party who will attempt to facilitate an agreement between the parties.  No party is ever forced to enter into an agreement rather the mediator seeks to find a mutually beneficial agreement that meets with the satisfaction of all parties—all from the comfort of your home or office.
A Powerful Option to Help Manage Your Time
We understand your time is important.  Online mediation is the perfect tool for the busy professional.  Participants can choose times that work best for all parties and are able to conference in from any location. Often times, parties involved in mediation have difficulty scheduling times and/or have mandatory mediation requirements prior to hearing or trial dates.  Online mediation offers you more flexibility in scheduling and can help you satisfy those deadline requirements on time.
Online Mediation is a Prudent Precaution Against the Spread of  COVID-19
As we all know, Online mediation helps protects you and all parties from possible exposure to the novel coronavirus:
Even under normal circumstances, avoiding close contact with folks who are sneezing, coughing or running a fever is well advised.

 

However, following these precautions are more important now than ever given the emergence of the novel coronavirus causing a pandemic of illness.
With this illness, heightened vigilance is necessary as simply avoiding those who are sick and showing symptoms may not be enough to successfully avoid infection.

 

Researchers have discovered that asymptomatic individuals may be carriers of the the coronavirus and can pass it on to others without knowledge that they are affected whatsoever.
Experts recommend we all engage in social distancing.

 

These recommendations include that people stay at home as much as possible only leaving when necessary—for essential items such as groceries or medications.

 
Additionally, it is recommended to avoid groups of ten or more people, not to shake hands with anyone, regular hand washing/ sanitizing, and when you encounter those who do not live within your household to maintain a six foot distance from each person.
We take these concerns seriously but realize that our lives, including our legal matters, need to continue.  Online mediation is a WIN-WIN solution. You can move forward with your legal matter AND stay safe while doing so.
What is Online Mediation?
Commonly asked questions about Online Mediation and how it can help you resolve your business and personal conflicts without litigation.
Can parties caucus with the mediator online?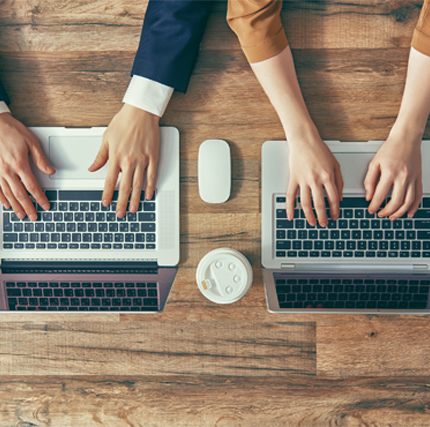 Yes, the tool we use at Hess Gehris for online mediation (Zoom)  allows us to caucus with parties individually, and with different groups.
Can we share documents during an online mediation?
You sure can.  It is simple to share and create documents during our process, in real time, without having to go back and forth via email.
Are the parties bound by the rules of confidentiality, as they are in a traditional mediation?
Yes, the rules regarding confidentiality apply to online mediation as well.
Can the parties see and hear each other?
Yes, when we are in joint session, parties can see and hear each other.  When we are in private breakout rooms, the parties can only see and hear those who are in their breakout room.  We, the mediators, will move people into and out of breakout rooms, much in the same way we would move parties into and out of physical conference rooms during an in-person mediation.
How do we know who is participating in online mediation if they are not in the same place?
As part of the agreement to mediate, we require all the people involved be identified and that each of them agrees not to record any part of the session.  We rely on parties to participate fully and be honest, just like in traditional mediation.
Will we be required to sign an Agreement to Mediate?
Yes, as with all mediations at Hess Gehris Solutions, you will be asked to sign and submit the Agreement to Mediate before or at the beginning of the session.
Can we consult with our lawyer privately?
Absolutely.  We can set up a separate breakout room in which you can consult online privately without the mediator or other party.
Do we need any software or a computer to participate?
No.  You need an electronic device with internet access, and sound capability and a camera.  A smartphone, pad or computer will work.
How do we get Zoom?
Whether using a desktop, lap top, pad or smartphone, accessing Zoom is easy.   We encourage you to load Zoom on your computer or phone in advance, so you aren't delayed when you join the mediation.  It is easy.
For a desktop, laptop or iPad, you have two choices:
Go to https://zoom.us/ and click on the Sign Up, It's Free button at the top right of the screen; or

Go to https://zoom.us/, click on Resources at the top right of the screen, and then Download Zoom Client.
If you expect to be using Zoom again, we recommend you sign up for a free account.  (You may note that the free account only allows group sessions lasting 40 minutes.  That time restriction will not apply if you connect to one of our mediations, as we have a platform that gives us up to 24 hours).
For an iPhone or Android phone, simply download the Zoom Cloud Meetings app.
If you practice with Zoom beforehand you will quickly get a sense how easily this program works.  We suggest you try it to video-conference with a spouse, child or friend.
Call or email today to schedule your online mediation.  832.699.1966 or email [email protected]